How Dolly is responding to COVID-19
8/16/21
To our valued customers,
Amidst the continued disruption and uncertainty related to COVID-19 and the variant strains, please be assured that Dolly and our Helpers are here to help. We are closely following health authority guidance and mandates while responsibly serving customers who need a service like Dolly.
Dolly has always been in the business of providing a best in class moving and delivery service, with a focus on customer safety. Here is what that looks like as we continue to navigate our COVID-19 world:
If you feel concerned about being in close contact with your Helper, please communicate with your Helpers before they arrive for the task. Use the messaging feature in our app to provide as much information up front as a way to decrease time spent together and unnecessary interactions.
Avoid skin-to-skin contact and respectfully keep distance from each other.
We've asked our Helpers to wear masks at all times and disinfect their tools, supplies, and moving equipment as needed.
If you are sick or showing symptoms, do not book a Dolly. We've asked the same of our Helpers.
Lastly, if you are worried about your health and safety, get to a safe space and call our support team.
No Contact Service
In addition to these safety protocols, we continue to offer our No Contact Service. This service level allows us to responsibly protect our Helpers and serve customers, while maximizing safety.
How no-contact service works
After entering your moving and delivery details, Dolly will provide you a guaranteed price.
On the price screen you'll see two options: Standard Service and No Contact Service.
If you choose No Contact Service, your Helpers will load, transport, and drop off your items in a pre-arranged location outside of the home—like a garage, porch, or building lobby.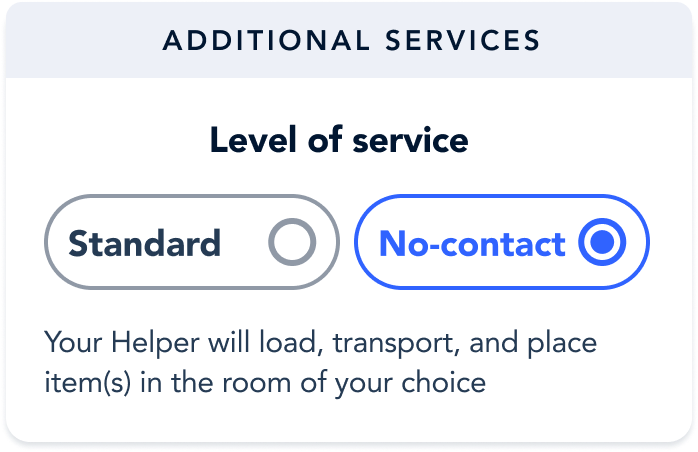 We greatly appreciate your professionalism and patience during this time, and know that the health and safety of our customers and Helpers is a top priority.
Thank you for trusting Dolly, and be safe.
– Team Dolly