How Dolly works
1. Find Dollys nearby
Use the Helper app to browse Dollys and learn about job requirements.
2. Build your schedule
Request Dollys that suit your needs. Earn more on Bonus Dollys.
3. Do the Dolly & earn
Get paid twice a week and keep 100% of your customer tips.
Why Dolly?
High payouts, guaranteed
See how much you'll get paid before requesting a Dolly and receive 100% of customer tips! Top Helpers can routinely earn over $1,000 per week.
Build your delivery business
Be your own boss and quickly grow your business with consistent, well-paid work, and live notifications when new Dollys are requested in your area.
Control your work schedule
Work as much or as little as you'd like. You have full control over what Dollys you request. Go for only the ones that suit you.
Do Dollys with your friends
Get matched up with other Helpers and Hands or request your friends on the platform and get scheduled together.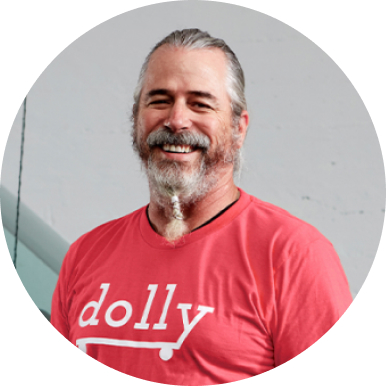 "Dolly has opened up a new career for me. I'm building my delivery business while guaranteeing income for my family."
- James A., Palo Alto, CA
Frequently asked questions
We connect independent contractors with local people and businesses who need help transporting or lifting heavy items.
Operating as an independent contractor, you'll choose which jobs are right for you. Dolly offers a variety of services to customers, including store deliveries, full apartment moves, labor-only, junk haul away, and more. You decide your schedule—there's no contract or minimum hour requirement.
The main tasks of the job are choosing which Dollys to take, showing up to the Dolly location(s) and lifting and/or transporting heavy items. You'll also be empowered to communicate with customers to clarify job details.
Average earnings
Dolly Helpers make an average of $50/hr.
Dolly Hands make an average of $35/hr.
Helpers & Hands keep 100% of the customer tips from each Dolly.
Payment schedule
We pay you twice a week using PayPal. After you are approved on the platform, we'll email you with pointers on the best way to set up your PayPal account for Dolly.
Dollys completed on Monday, Tuesday, and Wednesday pay out on Friday.
Dollys completed on Thursday, Friday, Saturday, and Sunday pay out on Tuesday.
Helper
A Helper is an individual who is 18 years of age or older; drives a pick-up truck, box truck,cargo van, or SUV with a trailer; can lift over 75 pounds; and has best-in-class customer service.
Hand
A Hand is an individual who is 18 years of age or older, assists a Helper with moves or takes Labor-Only Dollys, and has the best-in-class customer service.
Assistant
Assistants are subcontractors who work on a specific Helper's Dolly Team. Learn more about Teams and how to add an Assistant.
General requirements
18 years of age or older
Android or iOS smartphone with Android 5.0/iOS 11 or newer
PayPal account
Ability to pay for and pass a background check
Helper (truck + muscle)
An active and valid driver's license that authorizes you to drive (not a learner's permit).
Auto insurance that matches the name and vehicle you sign up with.
Proof of being an owner or an insured driver if the vehicle and / or insurance is registered under a legal registered business name (e.g., Secretary of State document or an IRS EIN letter).
Willing and able to lift and carry large bulky items, such as couches and desks (at least 75 lbs).
Hand (no truck required)
A valid, unexpired U.S. government issued identification. Examples include but are not limited to a driver's license, identification card, passport, or permanent resident card.
For more information on vehicle and document requirements, please visit the following links:
Get started by signing up as a Helper (if you have a pick-up truck, cargo van, box truck, or SUV with trailer) or signing up as a Hands.
Complete the sign-up process, including:
Vehicle & insurance verification (if you are signing up as a Helper)
ID Verification
Onboarding training
Signing a Helper Agreement
Paying for and passing a background check
Then, download the Helper app and request your first Dolly!
Sign-up process overview
Helpers are required to own a truck, cargo van, box truck, or an SUV with a trailer. Passenger vans, minivans, and cars are not permitted.
Please note that we don't accept rental vehicles or flatbed trailers. Vehicles should also contain minimal customization such as vinyls and decals.
If you don't own a qualifying vehicle, sign up to be a Hand.
Once you're approved on the platform, use the Helper app to view the Dollys that are available in your area. You're the boss! Request Dollys that align with your abilities and schedule, and work as much or as little as you'd like. If you're new to the app and want to learn how to request jobs, read our article on
Navigating the Dolly Helper App
It typically takes around 7-10 days from the time you first start signing up until you're ready to find and complete Dollys. This can vary due to background checks, and is currently slowed down due to court closures from COVID-19.
Once you've signed up, be sure to check your email throughout the process as the Dolly team will reach out with next steps along the way. Questions? Reach out to us.